The majority of Fredo's work was done in the second half of the season. It's not a coincidence that his team turned around so much during that time. Fredo's play sparked the entire team enroute to their eventual cup victory. Fredo's blocking opened up avenues for the ballcarriers to run on offense, and holes in opposing offenses that his teammates exploited on defense. No other player in Season I can be linked to their team's performance as much as Fredo was.
Offensive Player of the Year: SessrumnirEdit
[[F.A.S.T. Gonzalo|

F.A.S.T. Gonzalo]] was a strong candidate here, but
Sessrumnir
was the first real scary offensive threat in the league. Gonzalo played exceptionally well in the latter half of the season, but Sessrumnir seemed unstoppable to opposing defenses for the
entire season
. He led the league in rushing and in touchdowns, eclipsing 12 touchdowns and easily over 600 yards on the ground in the league's first season.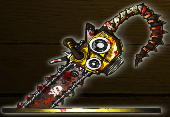 Though Bull had a bit more competition on his own team for this award, that was really the only place it came from, outside of the Sabres' Fredo D. Stefani. But Fredo did it mostly in the second half of the season. Bull was a terror all year, and outside of the treeman
Oak
from The Trees, was the strongest player in the league. An argument could be made for his teammate Mike the Mauler, but a majority of Mike's casualty numbers came in spurts and streaks, with dry spells in between. Bull gets my nomination for reliability.
Ad blocker interference detected!
Wikia is a free-to-use site that makes money from advertising. We have a modified experience for viewers using ad blockers

Wikia is not accessible if you've made further modifications. Remove the custom ad blocker rule(s) and the page will load as expected.